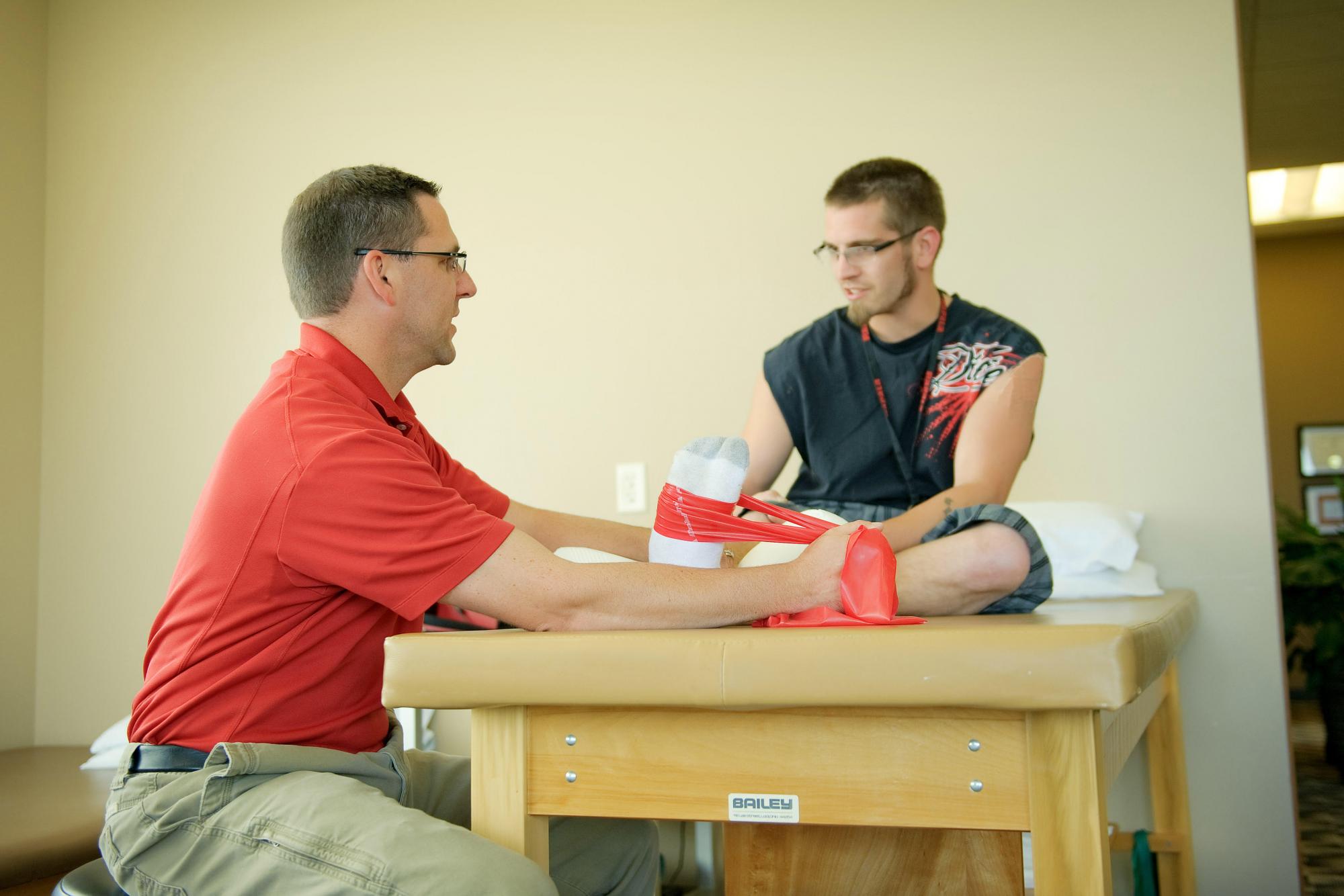 Lincoln Orthopedic Physical Therapy has been serving the Lincoln community since 1982, working hard to establish a reputation as one of the leading outpatient orthopedic physical therapy clinics in the area.  We are privileged to offer physical therapy in Lincoln with a wide variety of needs, but focus on orthopedic problems.
Understanding your patient's specific needs is the best way for us to develop physical therapy programs that provide effective treatment to manage musculoskeletal problems. We emphasize patient instruction and home management to prevent recurrence of the problem and to avoid associated disorders.  When disease or musculoskeletal impairment limits abilities, we teach the patient the skills needed to manage their pain and limitations.
We take a holistic approach to treating patients. Meaning we don't focus just on the patient's symptoms.  By looking at the inner relationship of musculoskeletal function throughout the body we provide more comprehensive treatment of the patient and their impairments.
History of LOPT
1982 - Beginnings
Lincoln Orthopedic Physical Therapy was established in 1982 by Jake DeNell and Roger Sand. Both Roger and Jake had worked in orthopedic physical therapy before joining at the original location at 56th and South Street in Lincoln, Nebraska. The mission of LOPT represented their faith and looked to serve others with kindness and with a sense of purpose. 2120 S 56th remains a place of fondness as the location where LOPT took root.
1998 - North Lincoln
As Lincoln began to expand in the late '90s, so did LOPT. In 1998, LOPT had grown to five therapists and looked to open LOPT's second clinic in the up and coming area of Lincoln at 27th and Superior. That intersection is now one of the busiest in Lincoln. LOPT has been an established presence in North Lincoln and is in its third location after growing from the small space they originally leased. 
2000 - Williamsburg
Lincoln's southern border continued to expand, and we decided to open a third location. Jake DeNell moved to this location and remains a trusted therapist where patients return to see Jake from the decades of care he has given. The Williamsburg location is an established business in South Lincoln.
2003 - Northeast Lincoln
The original LOPT location was relocated to the 84th and Holdrege intersection. In the early 2000s, Roger Sand transitioned to this new area of town and continued to offer Lincoln his expertise in shoulder rehab. Physicians referred shoulder patients specifically to Roger because of his great outcomes. Lincoln's 84th street has become a busy thoroughfare in Lincoln. 
2015 - Midwest Physical Therapy
Renee Tewes founded Midwest Physical Therapy in 1995. She established a solid physical therapy practice in the Lincoln community and a clinic in Ashland. As retirement began to appeal more and more, she reached out to LOPT to continue the culture and care of her practice and employees.  Midwest Physical Therapy became part of the LOPT family which expanded LOPT's Lincoln footprint from three to five locations.  Midwest Physical Therapy in Ashland also became part of LOPT in a growing community near Lincoln and Omaha.  The previous Midwest Physical Therapy locations in Lincoln that LOPT now occupies includes 27th & Pine Lake and 70th & A. 
2020 - LOPT West @ Speedway
In April of 2020, LOPT Performance was created to offer Lincoln area patients the means to transition from injury back to the playing field. The Performance program bridges the gap from rehabilitation to high-level performance. It allows athletes of all stages to return to their sport or activity with an emphasis on biomechanics and working with therapists specializing in running, throwing, and jumping.
A year later in 2021, LOPT moved locations to west location to offer physical therapy to downtown and west Lincoln. LOPT West expands care to offer musculoskeletal PT, post op rehab, as well as sports performance to area athletes.  LOPT West/Performance is now located in Hybrid Human Performance in Speedway Village off of 4th and Van Dorn to offer state of the art strengthening equipment, turf and space for patients to progress in a sport-specific environment.  
2021- Southeast/84th and Yankee Hill
LOPT expanded their footprint as Lincoln continues to grown in new areas.  Our Southeast location provides PT to a growing area of town near Standing Bear High School, Copple YMCA/Moore Middle School, and towns near Lincoln such as Hickman, Bennet and Syracuse.
2022- O Street
Our O St clinic offers the Lincoln community and option for physical therapy in the heart of the city.  Located in a busy area of town, patients can access physical therapy near Nebraska Wesleyan, UNL East Campus, residential and businesses in the area.  
2022 - Downtown/Telegraph Area
LOPT will now provide physical therapy to the growing area of downtown Lincoln.  Our clinic at 19th and K St is on the boarder of the Telegraph District.  It will provide patients convenient access to physical therapy who work or live in the downtown area, attend Lincoln High or UNL.