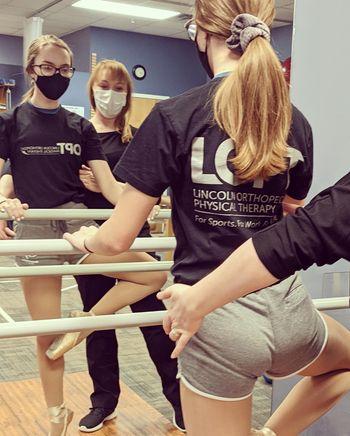 LOPT Dance is physical therapy customized for dancers. We understand that dance is a highly specialized activity, so you need a team with expertise in musculoskeletal conditions as well as dance technique and performance to keep you at your best in the studio and onstage. Whether you have an injury in need of rehabilitation or are looking to optimize your potential, LOPT Dance provides a one-on-one evidence-based approach by a team dedicated to helping you achieve your goals.
Your appointment with LOPT Dance will consist of
Comprehensive evaluation. We address your area(s) of concern and take into consideration additional factors that could affect your success. 

Individualized plan. This can include any combination of movement analysis, customized exercises and therapy interventions determined by your specific needs.

One-on-one focus. Our team understands the unique physical demands of dance . Your first appointment is 60 minutes, with follow up visits from 30 to 60 minutes.